G-Shock MTGS1000D-1A Twisted Metal // Pre-Owned
Casio G-Shock
SKU:
MTGS1000D-1A-PO
Call for best pricing: 1-800-486-3996
G-Shock MTGS1000D-1A Twisted Metal Tough Solar Triple G Stainless Steel Watch
By: Casio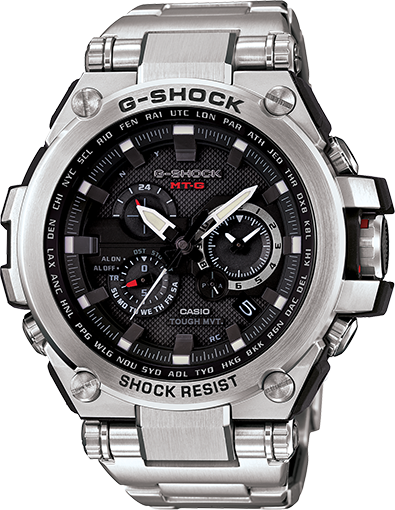 The MT-G, Metal Twisted G-Shock, is a completely refined G-SHOCK series crafted at Casio's Yamagata factory in Japan for select premium styles. Meticulously assembled from materials and components made entirely in-house, the elegance of a luxury timepiece is combined with a rugged performance chronograph to take you across oceans and continents. The stainless steel covering of the MT-G employs G-SHOCK's advanced Core Guard Structure of stainless steel, resin and alpha Gel® to ensure mechanical integrity, coupled with LED-infused Tough Movement for ongoing precision. Multi-Band 6 atomic timekeeping ensures accuracy through radio-controlled time/date updates from global transmitting stations, along with Triple G Resist for shock, gravitational drop and centrifugal force resistance. The MT-G is the epitome of modern wrist couture. Stainless Steel analog watch with a black face.